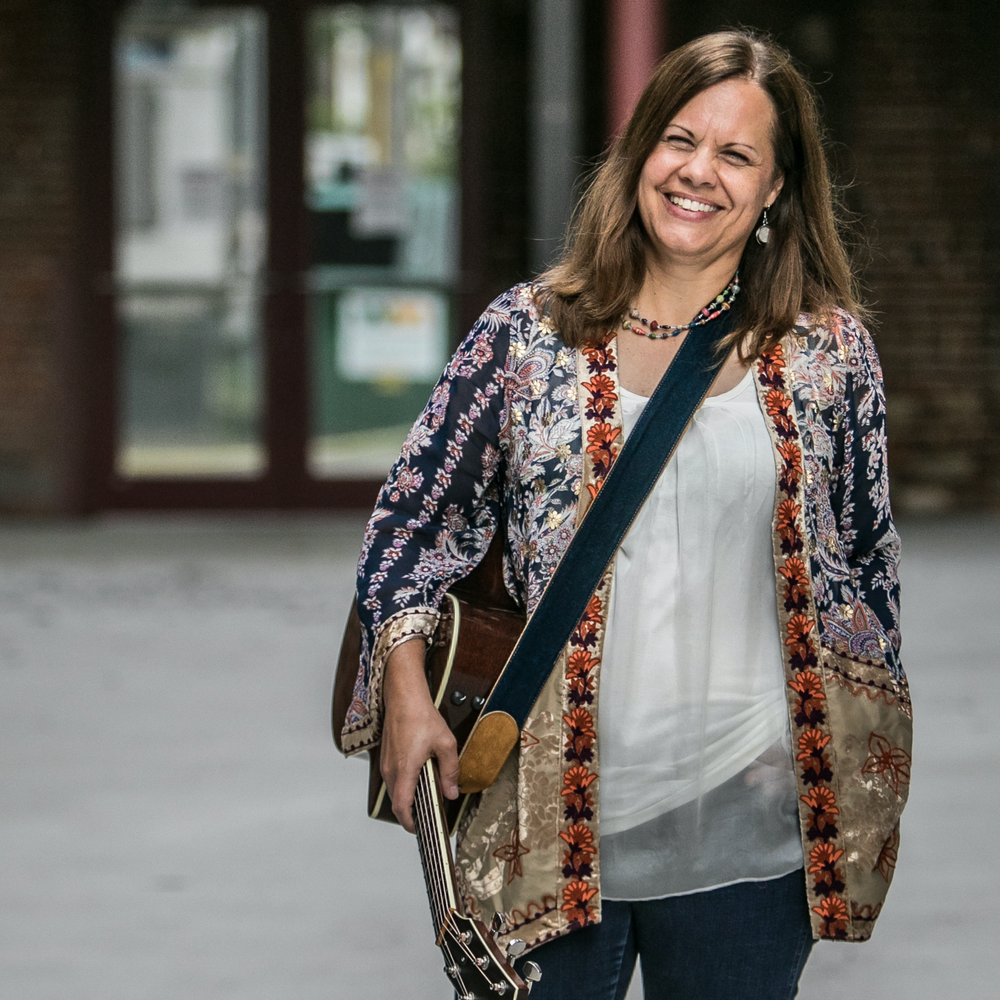 Joy Zimmerman, a soulful singer-songwriter, explores the everyday and the extraordinary with a captivating voice. Her songs resonate with humor, triumph and humanity. Joy's seventh studio album, The Canvas Before Us, is an acoustic reinvention. Released in August 2021, the album debuted at #8 on the FAI Folk Chart.
Born on Shakespeare's 400th birthday, it's no wonder Joy is a natural writer. Her songwriting has been recognized nationally with an American Songwriter Lyric Contest Honorable Mention and ten Walnut Valley Festival NewSong Showcase wins. Her music has been described as "vivid and alive, tender and poignant, and altogether a gift for the listener." (Caryn Mirriam-Goldberg, former Kansas Poet Laureate)
You might say Joy's emergence as a dynamic singer-songwriter is surprising. She didn't pick up a guitar, sing a solo or write her first song until mid-life. But all the elements were there…a voice of honey waiting to be discovered, insights to write about for days, and a lifelong love of music beginning with  a request for violin lessons before kindergarten.
A touring musician based in Kansas City, Joy's performances are engaging, thought-provoking and full of opportunities to laugh and reflect. She leaves you wishing you had heard her sooner and trying to figure out how to be her friend. Joy has recorded three albums of original music in Nashville, one live and three studio albums in Kansas City, and her most recent studio album in Sparta, Illinois.
Joy performs solo or in a duo or band. Past venues include Louisville Arts Center (CO), Green Guitar Folk House (KS), Knuckleheads (MO), Stone Room Concerts (DC), InterUrban ArtHouse (KS), The Warming House (MN), InterContinental Hotel (MO), Chateau Chantal Winery (MI), Taos Inn (NM), and McMenamins (OR).
An accomplished violinist on her albums, Joy was once in the Saint Louis Symphony Youth Orchestra, Fargo-Moorhead Symphony, Concordia College Orchestra, and Kansas City Civic Orchestra. She was also Assistant Music Director at Saint Andrew Christian Church, Director of No Strings Attached, and Music Leader at Crittenton Children's Center.
Combining her background in music and social work, Joy has led interactive workshops and retreats on creativity, resilience, gratitude, grief, songwriting, and the power of music. Settings have included conference centers, hospitals, festivals, retirement centers and numerous nonprofit organizations.
"Cultivate Joy" and "Amplify Hope" logos adorn Joy's merchandise.
"​Joy has a wonderfully unique way of connecting to her audience that I have seen no other performer do...she engages every audience and wraps everyone in a velvet blanket of beautiful music." 
~ Peggy Kelly, Open Range Concert Series
Joy's music is vivid and alive, tender and poignant, and altogether a gift for the listener."                                                                                          ~ Caryn Mirriam Goldberg, former Kansas Poet Laureate