How have these times changed you? Even as I ask, I doubt any of us can fully answer. I suspect we'll be unravelling the impact of this pandemic for decades. 
Living with an invisible, unprecedented threat has brought with new fears and realities worldwide. Do you also have to calm your mind as you spin through threads of loss? 
We humans generally fight hard against shifting sand and shaky ground. Even so, we've come up with new ways of adapting and connecting. 
How have these times changed you? Those of us who do not have black or brown skin need new eyes, ears and hearts to better understand historic and current injustice. I am heartened by the new ground swelling towards more justice and equality. 
In the midst of all this change, a late frost killed most of the leaves on the ginkgo tree that graces our front yard. (I sang the praises of this tree in a blog after our dog Charlie's sudden death.) We sadly assumed our beloved tree would remain barren until next spring.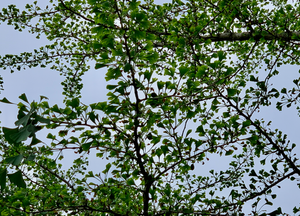 But, in a surprise move, another round of leaves eventually appeared. This ancient tree, with earliest fossils dating back 270 million years ago, relied on ancient knowledge (and evolution!) and began anew. Not knowing a second set of leaves was possible, this tenacity and transformation astonished me. 
(New and old ginkgo leaves on our tree) 
A New Day, my song of challenge and hope, was recorded by Fett at Azalea Studios in Nashville. Mark Kibble of Take 6 arranged the choir parts and invited five amazing singers (pictured above) to join him. Fett suggested we solo the exuberant choir for a bonus track. Mosaic ends with their voices singing A New Day. 
May it be so. 
 A New Day (Choir Excerpt) 
A New Day 
P.S. More ancient wisdom:"Great music stops the inner turmoil of thought and allows the mind to seek its natural state of joy. Music frees our minds and allows us to soar to heights where we can experience the celestial." ―Wu Wei, I Ching Wisdom: More Guidance from the Book of Answers, Volume Two (The I Ching is estimated to have been written between the 10th and 4th centuries B.C.)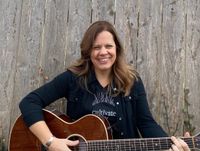 Joy Zimmerman's soulful vocals and original music dance effortlessly from poignant to hilarious to joyful -- round-trip guaranteed! With folk rock as a springboard, Joy dives into the everyday and the extraordinary. A touring musician based in Kansas City, Joy is a voice of authenticity, hope and joy. 
Joy's songwriting awards include an American Songwriter Lyric Contest Honorable Mention and nine Walnut Valley Festival NewSong Showcase wins. She has recorded seven albums - three in Nashville and four in Kansas City. Joy's most recent release, Shed a Little Light: Joy Zimmerman Live is available now. joyzimmermanmusic.com