Applause still resounds from balconies at shift change…signs proclaim gratitude in yards across the country…firsthand accounts appear in newspapers…yet we can't thank health care workers enough. 
I was inspired to write We'll Hold the Light from my front row seat to heroism. My wife, Linda, is an anesthesiologist at a Level 1 Trauma Center, safety net hospital. As a witness to the toll of long, stressful shifts within an overtaxed medical system, I cannot imagine the sights, sounds or challenges health care workers experience and absorb. 
"Working all night at the hospital is like time out of time. The outside world, which includes your loved ones and friends, goes on without you. You miss dinner, bedtime, gatherings of friends, special events. And you are immersed in trauma, illness, grief, loneliness that those outside your work life will never know. The chasm between the two parts of your life sometimes feels immense…" ~Dr. Linda Dill 
We'll Hold the Light is a song of gratitude for the brave, selfless work of health care workers and first responders every day and especially during this pandemic. Facing unprecedented and life-threatening conditions, they have provided steadfast care for us all. 
I'm thrilled to share the new video with you! (click on photo below)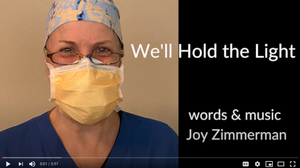 Of course, most heroism happens without fanfare. When an ICU nurse is the last person to hold the hand of a dying patient, when a physician shares difficult news with family, when an EMT struggles with nightmares…and the list goes on. 
Let's make sure our gratitude is backed by a strong commitment to adequate personal protective equipment (PPE), mental health services and other support. I encourage you to join me in making a donation to your local YMCA Covid-19 Emergency Child Care Services for Essential Workers or other similar organizations. The YMCA program offers child care and other services at 1,000 sites nationwide for families of medical personnel, essential employees and first responders. 
Resources: 
Mock, Jillian. "Psychological Trauma is the Next Challenge for Coronavirus Health Workers: Hero Worship Alone Doesn't Protect Frontline Workers from Distress." Scientific American, June 1, 2020. 
Hoffman, Jan. "'I can't Turn My Brian Off': PTSD and Burnout Threaten Medical Workers." New York Times, May 16, 2020. 
We'll Hold the Light is available for free download at joyzimmermanmusic.com. Please feel free to share with any healthcare workers and first responders in your world. 
With gratitude, 
Joy 
P.S. Big thanks to our dedicated friends featured in the video and to Duane Trower for recording, mixing & mastering the new song! Many thanks also to Ryan Dugan (guitar, bass & harmony vocals), Beau Bledsoe (dobro) and Christine Broxterman (cello) for joining me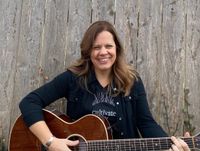 Joy Zimmerman, a soulful singer/songwriter, dives into the everyday and the extraordinary. Known for compelling vocals and captivating performances, Joy is a touring musician based in Kansas City. Her forthcoming album, The Canvas Before Us, is an acoustic reinvention and her seventh studio album. joyzimmermanmusic.com