When Linda cooked up the idea of recording a live CD, my insides clenched. I proceeded to be nervous for the next four months. 
You see, I'm a card-carrying perfectionist. I love performing and sharing music live, but "what happens on stage, stays on stage." It's an entirely different deal when the songs will be recorded in perpetuity. 
For this adventure I was joined by two talented young men, my son & guitarist Ryan Dugan and bassist Jake Wheeler. Linda decided to make both live performances more fun (and easier on the nerves) by giving us each a Get Out of Jail Free card in case we wanted to repeat a song. 
While playing one of my new songs, "Not Enough Time," I forgot the lyrics. (Who wrote them anyway??) What happened next couldn't have been scripted…I just kept going. The fellas backed me up, and I found my way, eventually, back to the right words. 
Turns out I love this blooper reel (see below). I improvised. I laughed. I trusted myself. 
We're all improvising right now through this new territory. New skills. New anxieties. New variables. And we are finding our way day by day. 
Who knows how and when this pandemic will end, but I suspect we will all be proud that we dug deep, made sacrifices, and survived what was previously unknown. 
As the title suggests, "Not Enough Time" reminds us that we never have as much time as we want. So why not trust ourselves? Tolerate our mistakes? Laugh? Stick together? 
I'm happy to be sticking with you, 
Joy 
P.S. Here's the outtake of "Not Enough Time". It still cracks me up! The whole song is on the new album, Shed a Little Light: Joy Zimmerman Live. 
You could even order one now at joyzimmermanmusic.com 
When I sit down to write a song, it's a kind of improvisation, but I formalize it a bit to get it into the studio, and when I step up to a microphone, I have a vague idea of what I'm about to do. ~Paul McCartney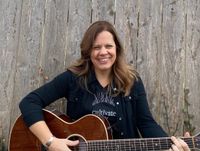 Joy Zimmerman's soulful vocals and original music dance effortlessly from poignant to hilarious to joyful -- round-trip guaranteed! With folk rock as a springboard, Joy dives into the everyday and the extraordinary. A touring musician based in Kansas City, Joy is a voice of authenticity, hope and joy. 
Joy's songwriting awards include an American Songwriter Lyric Contest Honorable Mention and nine Walnut Valley Festival NewSong Showcase wins. She has recorded seven albums - three in Nashville and four in Kansas City. Joy's most recent release, Shed a Little Light: Joy Zimmerman Live is available now. joyzimmermanmusic.com