This Mother's Day will be particularly poignant as my youngest son graduates from high school two days later. The impending empty nest will mark an ending and a beginning. 
Parenting is so complex, so challenging, so life-altering that it almost defies description. Especially since each child is completely unique and we parents are different each day and stage of life. 
There are no precise roadmaps or perfect solutions…only trail guides, fellow travelers and open-hearted love. So much that it overwhelms you. 
I carry you deep in my heart that has grown big and wide as the sky. 
When you first hold your baby (unless your beloved child comes to you later), you cannot possibly know what will be required. The depth to which your heart can be full or broken…the ways you will feel intensely lost and found…the vast amount of time, resources and your whole self freely given… 
How could we know the changes our lives would undergo? Who could foresee the bravery each heart will need? 
I am a parent by adoption, birth and the blending of families. In every instance, I have been stretched. My growing edges have not always been pretty or neatly wrapped. When my boys were little, I remember ending conflicts with "Should we try again?"  Thankfully I've had many chances to try again. 
And thankfully I've had the honor of the hardest job possible. 
Whether you're a parent, a treasured relative, teacher, coach or companion, you know the beauty and challenge of watching a child grow up and away. Their growth weaves together abiding love, the passage of time and the investment we have made in the future stretching before us… 
Then you'll know the weight of a heart that has grown as big and wide as the sky. 
I'm excited to share the video Linda and I created for "Big and Wide as the Sky" – one of the new songs from my new album, To the Girl. 
With a full heart, thank you~ 
Joy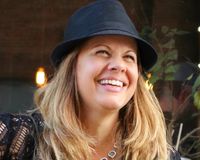 Joy Zimmerman's soulful vocals and original music dance effortlessly from poignant to hilarious to compelling to joyful -- round-trip guaranteed! With folk rock as a springboard, Joy dives into the everyday and the extraordinary. A traveling musician based in Kansas City, Joy is a voice of authenticity, hope and joy. 
Joy's songwriting awards include an American Songwriter Lyric Contest Honorable Mention and eight Walnut Valley Festival NewSong Showcase wins. She has recorded six albums - three in Nashville and three in Kansas City. Joy released To the Girl, her sixth album of original music in April 2019.  joyzimmermanmusic.com