"Love is the most universal, the most tremendous, and the most mysterious of the cosmic forces."   ~Pierre Teilhard de Chardin 
Who and what do you love to your core? 
How do you put that love into words...or music…or art…or food…or projects…or donations…or…? 
You might say everything we do is motivated somehow by love. While romantic love commands most of the spotlight, our lives are full of all sorts of deep love. 
Throughout the centuries, people have attempted to describe the full-on, full-body experience of love. Isn't it delicious when someone else's depiction of love speaks eloquently to and for us? We can't get enough. 
But even then, we're only scratching the surface. Countless poems, songs, paintings, sculptures, photographs try to describe the indescribable…try to tame the vastness…try to capture a piece of the infinite. 
Annie Leibovitz's Yoko Ono & John Lennon 
Mary Oliver's Wild Geese 
Bob Dylan/Adele's Make You Feel My Love 
Samuel Barber's Adagio for Strings 
Camille Claudel's Vertumnus and Pomona 
Roberto Begnini's Life is Beautiful 
In honor of Valentine's Day, here's one of my attempts. Crazy In Need was co-written with Jan Linder-Koda (over Skype no less!) and recorded in Los Angeles. 
What are you favorite depictions of love? What love language(s) do you speak? What's better than being in love with the world? 
Viva l'amour in its many forms! 
Joy 
P.S. I love including friends in musical projects…from contributing photos for videos and album covers to singing in a choir on my new record, sharing song suggestions, and participating in the big feedback loop of live performances. Enjoy the photos many of you submitted for this video!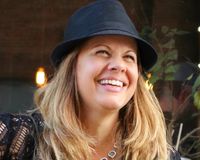 Joy Zimmerman is a soulful singer-songwriter known for compelling vocals, inventive songs, and captivating performances. A traveling musician based in Kansas City, Joy is currently working on "To the Girl", her sixth album of original music.  Joy is a multi-instrumentalist whose eclectic music might be best described as folk rock with extra helpings of other favorite genres. 
Joy's songwriting awards include an American Songwriter Lyric Contest Honorable Mention and eight Walnut Valley Festival NewSong Showcase wins. She has recorded three albums in Nashville and three in Kansas City - the latest, To the Girl, will be released in April 2019. 
Crazy In Need and other songs are available on CDBaby, iTunes, Spotify and Amazon Music Unlimited. joyzimmermanmusic.com