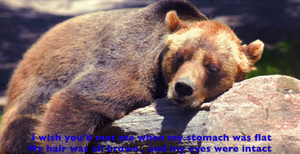 What body images have shaped your beauty standards -- Rubenesque figures, Twiggy or Nicki Minaj? How wide is your definition of loveliness? 
True story--I avoided my neighborhood pool for a whole summer in middle school because I thought my butt was too big. Seriously. I hope I'm alone in feeling body shame/self-criticism in middle school and many other times, but I suspect I'm not. It's in the water. 
For those of us who've had tumultuous relationships with our bodies, how can we make peace? How do we forgive our bodies for perceived flaws and shortcomings? 
It appears that I'm getting older, and the struggle is real. Sometimes I feel like a slowly-evolving science experiment. Intellectually I know to expect changes, but there they are. In the mirror. 
So what to do? Determine to set your own beauty standards. Thank your body for carrying you thus far. Look for loveliness. Laugh. 
As I got dressed one day, this line came to me—I wish you'd met me when my stomach was flat. I knew this line had launched a song.  A funny song, I hoped. Audience response routinely tells me I'm not alone in my struggles. My autobiographical tale (minus the kidney stone) seems to hit a nerve.  
Diane Keaton has said, "As you get older, you become more comfortable in your own skin". Even if that skin needs to be ironed. And celebrated. 
After all, dear friends, we just might be hitting our stride. 
*What beauty standards do you worship? How can we grow older more gracefully? What's your best body-positive message? 
All the best—with gratitude, 
Joy
Click on the images below for two different versions of this song...
P.S. I remember pre-production conversations with Fett of Azalea Studios in Nashville about the genre of this song. We wanted it to be amusing but not too kitschy so the novelty wouldn't wear off. I think our decision to go with klezmer struck the right chord. 
My violin often plays the part of the clarinet in live performances. And a final note -- when Linda and I made the official video, we opted to use images of animals instead of people (namely me) to illustrate the lyrics ;)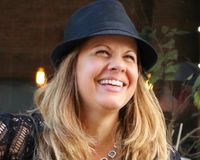 Joy Zimmerman is a soulful singer-songwriter known for compelling vocals, inventive songs, and captivating performances. A traveling musician based in Kansas City, Joy is currently working on "To the Girl", her sixth album of original music.  Joy is a multi-instrumentalist whose eclectic music might be best described as folk rock with extra helpings of other favorite genres. 
Joy's songwriting awards include an American Songwriter Lyric Contest Honorable Mention and eight Walnut Valley Festival NewSong Showcase wins. She has recorded three albums in Nashville and two in Kansas City. 
More information available at joyzimmermanmusic.com
To purchase "I Wish You'd Met Me When My Stomach Was Flat", visit cdbaby