It seemed a big advantage to have a last name that began with "Z'. Seated alphabetically, I often had time to rehearse my answers before the teacher called on me. So I wouldn't make a mistake. 
I remember reading ahead quickly to practice the section I'd be reading out loud to the class. So I wouldn't make a mistake. 
Even my kindergarten teacher said in a report card, "Joy doesn't need to try so hard to be perfect." 
Fast forward to the fall of 2017…. 
After playing the opening set, I was enjoying the performance of Ellis Paul, a nationally renowned singer/songwriter, at the Green Guitar Folk Series. As the audience called for an encore, Ellis walked over and invited me to join him on "Let It Be". 
A complete surprise. No time to practice. No time to check any lyrics. No turning back. 
And when Ellis suggested we step off stage and sing in the midst of the crowd, no mics. 
Paul McCartney explains the inspiration for "Let It Be" with a catch in his throat on Carpool Karaoke. He recounts how his deceased mother, Mary, appeared to him in a dream and spoke those seminal words. 
On the title track of my upcoming album, "To the Girl", I send words of comfort to that conscientious young girl. 
May we all say "yes" on a lark. May we sing out. And beyond any mistakes, may the spirit of our experiences carry us into our next "yes"... 
Let It Be, friends-- 
Joy 
P.S. If you're in Kansas City, I highly recommend the Green Guitar Folk Series: Green Guitar Folk 
I'm honored to be in the line-up again on Saturday, October 12th. 
P.P.S. If you've somehow missed Paul McCartney's Carpool Karaoke, watch it as soon as you can: Paul McCartney Carpool Karaoke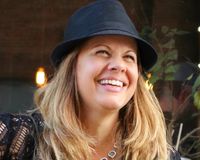 Joy Zimmerman is a soulful singer-songwriter known for compelling vocals, inventive songs, and captivating performances. A traveling musician based in Kansas City, Joy is currently working on "To the Girl", her sixth album of original music.  Joy is a multi-instrumentalist whose eclectic music might be best described as folk rock with extra helpings of other favorite genres. 
Joy's songwriting awards include an American Songwriter Lyric Contest Honorable Mention and eight Walnut Valley Festival NewSong Showcase wins. She has recorded three albums in Nashville and two in Kansas City. 
More information available at joyzimmermanmusic.com