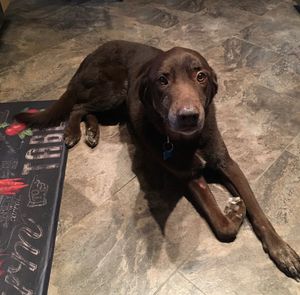 Snow began falling on our drive home from Des Moines yesterday afternoon. As Linda and I re-lived the delight of the two workshops I led at Mercy Medical Center, Linda's cell phone rang. During a routine teeth cleaning, our vet had discovered a tumor in our beloved dog, Charlie Bear's, spleen. 
And just like that life changed. It was decided to remove Charlie's tumor and then make a determination. The snow picked up steam as we drove on. Hoping against hope to make it to the vet's office in time to see him alive, we waited for the next call. Ten minutes away from the office, we learned that Charlie's heart had stopped during the surgery, and it would not start again a second time. The great, big heart of our lab/Great Pyrenees mix was now silent. 
The compassionate staff let us see him – so peaceful, still warm and smelling like our old pal. Stunned, we spent time thanking him for his life and his love. 
Then the hard work of telling our children and bearing their grief as well as our own. Lots of tears and stories and solidarity throughout the evening and night. 
This morning the ginkgo tree in our front yard began "raining." All fall we have waited for this day when the brilliant yellow leaves fall all at once. 
Despite our sadness we threw on coats and shoes and headed out. Linda had recently read that it's good luck to catch a ginkgo leaf as it falls. Slipping on the wet leaves on our steep hill, we began laughing as we tried to scoop up the magical leaves mid-air. The falling leaves began to feel like a shower of grace. 
We tend to think of good luck as a future proposition. But as I caught my first leaf, I gave thanks for Charlie Bear. I knew that our family had been supremely lucky. Charlie was a great connector when we needed it most. A gentle dog who looked deeply into your eyes, always ready for a snack or a belly scratch.   
Linda and I ended up catching numerous leaves, reminders of sadness and the good fortune of being surrounded and loved by wonderful people and wonderful animal friends like Charlie Bear. 
Rest in peace. 
All the best—with gratitude, 
Joy 
"O Sorrow" is my song for today. I tried to capture some of my experiences with grief, as well as others I have accompanied in support groups I have attended and led. Here are the lyrics:  O Sorrow Lyrics
Here's a video of our tree this morning. Ginkgo leaves have been found in fossils dating back 270 million years. Native to China, the tree was cultivated early in human history. After the first hard freeze its leaves usually fall all at once -- often within an hour or two. More information: Missouri Botanical Gardens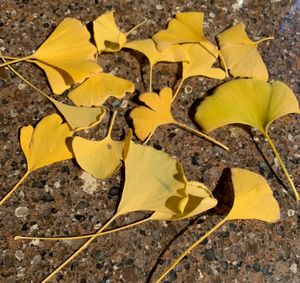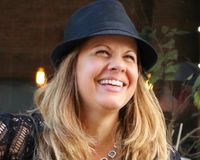 Joy Zimmerman is a soulful singer-songwriter known for compelling vocals, inventive songs, and captivating performances. A traveling musician based in Kansas City, Joy is currently working on "To the Girl", her sixth album of original music.  Joy is a multi-instrumentalist whose eclectic music might be best described as folk rock with extra helpings of other favorite genres. 
Joy's songwriting awards include an American Songwriter Lyric Contest Honorable Mention and eight Walnut Valley Festival NewSong Showcase wins. She has recorded three albums in Nashville and two in Kansas City. 
More information available at joyzimmermanmusic.com
To purchase "O Sorrow" visit CDBaby.com