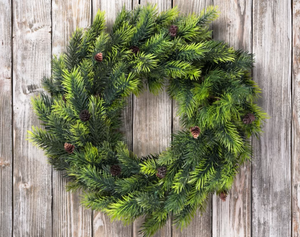 "The music is not in the notes, but the silence in between." ~ Wolfgang Amadeus Mozart 
I distinctly remember the moment the Kindermusik teacher told us moms and little ones that the rests are just as important as the notes. Even though I had played violin for 30 years, I had never thought of music that way. I had always focused on the intonation, rhythm and expression of the notes. 
And so my life had gone. All the time spent doing, trying, striving, working hard. All the concern about what I needed to accomplish but still hadn't. Intentional solitude was a far-fetched, challenging notion. 
Many of you are more versed in the gifts of rest and solitude. You know that clarity often comes in the stillness, that satisfaction deepens when we are quiet, that our actions are strengthened by solid rest. 
While the holidays are not usually associated with rest, clarity can help. Which traditions mean the most to you? Can you shed some activities that no longer bring meaning? How can you simplify and add some down time? 
As she traveled through the Northeast, my friend Marcia was struck by the simplicity of some of the Christmas decorating. Perhaps a remnant of their Shaker past, a wreath was the sole decoration at times. This is in contrast with the general sensibility in the Midwest where I live.  
If your house and your tree are all decked out, no judgement, of course. But It did get me thinking how little is actually required for a celebration….and this thinking led to a song, "One Simple Wreath". 
As 2020 approaches, we can't help but note that another year has flown by. The only way I've found to stretch time is to savor the present moment, especially if it's a delicious one. Take it in with all your senses. Note its beauty. Give thanks. Rest in its wonder. 
I'm grateful for any of the moments we got to share in 2019. Thank you for your sustaining support. I hope to provide the same for you. 
However and wherever you celebrate, may your holidays be merry and bright…and a bit restful, 
Joy 
P.S. If you need a little inspiration to discover and do more of what you love in 2020, might I suggest a kid's book for adults called It's Never Too Late by Dallas Clayton? "It's never too late to start something new. To do all those things you've been longing to do."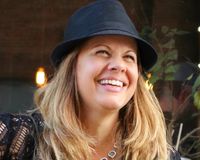 Joy Zimmerman's soulful vocals and original music dance effortlessly from poignant to hilarious to compelling to joyful -- round-trip guaranteed! With folk rock as a springboard, Joy dives into the everyday and the extraordinary. A touring musician based in Kansas City, Joy is a voice of authenticity, hope and joy. 
Joy's songwriting awards include an American Songwriter Lyric Contest Honorable Mention and ten Walnut Valley Festival NewSong Showcase wins. She has recorded six albums - three in Nashville and three in Kansas City. Joy released To the Girl, her sixth album of original music in April 2019.  joyzimmermanmusic.com