Have you ever taken a bath in the forest? 
As in "forest bathing"? As in retreating to nature to immerse yourself in its healing powers? 
Shrinrin-yoku forest therapy was developed in Japan during the 1980s as preventive health care. Researchers have since proven many benefits, including boosting the immune system, reducing blood pressure and stress, and improving mood and sleep. 
What's not to love? So basic and intuitive -- we feel better when we are connected to nature. All that's required is a slow, intentional walk in a forest or natural area. 
It's like magic. I instantly gain perspective when I step into the woods. My challenges seem smaller and more manageable within the grand scope of life. 
"And into the forest I go, to lose my mind and find my soul."   ~ John Muir 
After the devastating 2011 tornado in Joplin, Missouri, friends from our church went to replant a small fraction of the 25,000 lost trees. Linda and I contributed a tree in her mom's memory since she had grown up near Joplin and deeply loved nature. 
Our memorial tree was planted in Helen's front yard to replace a tree that had brought great comfort after her husband's death. The memory of Linda's mom and Helen's husband became intertwined in this walnut tree. I immediately thought of ways our sorrows and memories….struggles and triumphs…roots and branches are connected. In life. In disaster. In celebration. 
"Plant Me a Tree" is the result. 
And now we've learned that trees communicate – even warning and nourishing each other. Read The Hidden Life of Trees: What They Feel, How They Communicate—Discoveries from a Secret World by Peter Wolleben and be amazed. 
Go outside whenever you can. Set it down. Open your senses. Breathe in the goodness. Give thanks for the natural world and the healing it brings. 
Hope to see you in the forest~ 
Joy 
P.S. Here's a short video of nature, collaboration and creativity bringing healing to Joplin.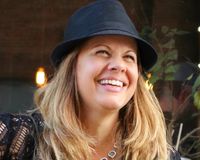 Joy Zimmerman's soulful vocals and original music dance effortlessly from poignant to hilarious to compelling to joyful -- round-trip guaranteed! With folk rock as a springboard, Joy dives into the everyday and the extraordinary. A traveling musician based in Kansas City, Joy is a voice of authenticity, hope and joy. 
Joy's songwriting awards include an American Songwriter Lyric Contest Honorable Mention and eight Walnut Valley Festival NewSong Showcase wins. She has recorded six albums - three in Nashville and three in Kansas City. Joy released To the Girl, her sixth album of original music in April 2019.  joyzimmermanmusic.com