Spring is coming….really, it is. 
As you and I have struggled with the ice and snow of this frigid winter, how have those tiny birds survived? 
And how do each of us survive turbulent times? I was convinced during one of the darkest periods of my life that songbirds were calling directly to me. Their simple, repetitive, insistent songs reassured me as I lay in the darkness unable to sleep. The sun would rise, and so would I, to face whatever lay ahead. 
I wrote "Sweet Bird" as a love song to those hardy creatures of hope. 
Sweet bird, sing your song, sweet bird 
Sweet bird, you need no words, sweet bird 
Songs of darkness, songs of dawn 
Inviting us to carry on 
Wake the world, sweet bird 
Brad Sneed, a dear friend, author and illustrator, painted a female cardinal for us. Both Brad and the cardinal star in this video. Be sure to watch Brad's time lapse painting at the end and check out his website at www.BradSneed.com. 
What or who encourages you in dark times? What will you do when the weather warms? 
Here's to the renewal of spring and to the resilience of birds…and each of us! 
Joy 
P.S. Here's a great article (from a great website) entitled "How Do Birds Survive Winter?" http://www.birdsleuth.org/how-do-birds-survive-winter/ 
Hint: Sometimes survival involves a big change in brain size or body temperature—wow!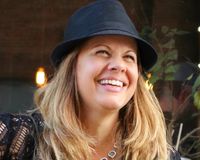 Joy Zimmerman is a soulful singer-songwriter known for compelling vocals, inventive songs, and captivating performances. A traveling musician based in Kansas City, Joy is currently working on "To the Girl", her sixth album of original music.  Joy is a multi-instrumentalist whose eclectic music might be best described as folk rock with extra helpings of other favorite genres. 
Joy's songwriting awards include an American Songwriter Lyric Contest Honorable Mention and eight Walnut Valley Festival NewSong Showcase wins. She has recorded three albums in Nashville and two in Kansas City. 
More information available at joyzimmermanmusic.com