"Growing pains are not just for the young…" 
While experiencing those uncomfortable pangs once again, this line became the genesis of "The Firefly". I was reminded of fireflies kept too long in mason jars. Did you also gather up fireflies as a child? And sometimes leave them behind when you moved on to flashlight tag? 
I have learned to listen to discomfort. Although I don't always see the next steps clearly, I now recognize signs that I'm getting ready to shed old skin and take on new, unforeseen challenges. 
Some of the best things have happened when I leapt into the darkness without knowing the next chapter. 
It can take a long time to find yourself….to understand the undercurrents and find your deepest passions. (For inspiration, read "For a New Beginning" by John O'Donohue below.) 
I eventually discovered that mine include songwriting and playing music. All roads have led here—all those seemingly insignificant side trips, major highways, thickly wooded paths, and dark alleys lit only by a single bulb. 
As we launch into a new year, what are your deepest passions? How will you say "yes"? What is waiting beyond the mason jar for you? 
All the best to you and yours in 2019 – with gratitude, 
Joy 
For a New Beginning 
In out-of-the-way places of the heart, 
Where your thoughts never think to wander, 
This beginning has been quietly forming, 
Waiting until you were ready to emerge. 
For a long time it has watched your desire, 
Feeling the emptiness growing inside you, 
Noticing how you willed yourself on, 
Still unable to leave what you had outgrown. 
The delight, when your courage kindled, 
And out you stepped onto new ground, 
Your eyes young again with energy and dream, 
A path of plentitude opening before you. 
Though your destination is not yet clear 
You can trust the promise of this opening; 
Unfurl yourself into the grace of beginning 
That is at one with your life's desire. 
Awaken your spirit to adventure; 
Hold nothing back, learn to find ease in risk; 
Soon you will be home in a new rhythm 
For your soul senses the world that awaits you.                                                         
                                                            ~ John O'Donohue 
                                                            www.johnodonohue.com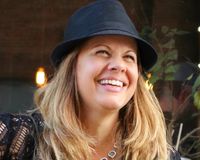 Joy Zimmerman's soulful vocals and original music dance effortlessly from poignant to hilarious to compelling to joyful -- round-trip guaranteed! With folk rock as a springboard, Joy dives into the everyday and the extraordinary. A traveling musician based in Kansas City, Joy is a voice of authenticity, hope and joy. 
Joy's songwriting awards include an American Songwriter Lyric Contest Honorable Mention and eight Walnut Valley Festival NewSong Showcase wins. She has recorded six albums - three in Nashville and three in Kansas City. Joy released To the Girl, her sixth album of original music in April 2019.  joyzimmermanmusic.com