We are creatures of habit, aren't we? 
Most of us drive to work the same way, hang out with the same people, and follow familiar routines. We seek patterns and predictability to help us make sense of the world. 
But is predictability always good? What happens when we mix it up? 
Brain science has shown benefits to driving different routes to work and altering well-worn habits. Neuroscientists believe that our brains are constantly searching for newness. By instituting variety, we can increase our creativity and focus, improve our memory, and maybe find a renewed sense of purpose. 
Big and small changes often require courage and self-evaluation. Maybe a lot of both. 
I wrote "Until the Dawn" about a complete upheaval in my life. There was plenty of darkness but also big, beautiful light. I hoped to capture all that in this nontraditional love song. 
What could you shift in the darkness?
What might you discover as the dawn breaks?
Who do you want to be in the new day...new year...ahead? 
As we move toward 2020, I offer John O'Donohue's brilliant poem for all of us who wish to become even bolder versions of ourselves. 
For a New Beginning 
In out-of-the-way places of the heart, 
Where your thoughts never think to wander, 
This beginning has been quietly forming, 
Waiting until you were ready to emerge. 
For a long time it has watched your desire, 
Feeling the emptiness growing inside you, 
Noticing how you willed yourself on, 
Still unable to leave what you had outgrown. 
It watched you play with the seduction of safety 
And the gray promises that sameness whispered, 
Heard the waves of turmoil rise and relent, 
Wondered would you always live like this. 
Then the delight, when your courage kindled, 
And out you stepped onto new ground, 
Your eyes young again with energy and dream, 
A path of plenitude opening before you. 
Though your destination is not yet clear 
You can trust the promise of this opening; 
Unfurl yourself into the grace of beginning 
That is at one with your life's desire. 
Awaken your spirit to adventure; 
Hold nothing back, learn to find ease in risk; 
Soon you will be home in a new rhythm, 
For your soul senses the world that awaits you. 
~John O'Donohue 
Always in your fan club, 
Joy 
P.S. This live video was a stretch for me…both performing AND watching it! The camera got pretty close ;) Big thanks to Charlie Steen who filmed it in Grand Rapids, MI, during the Folk Alliance Regional Midwest conference.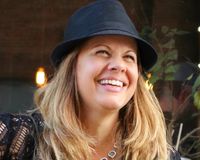 Joy Zimmerman's soulful vocals and original music dance effortlessly from poignant to hilarious to compelling to joyful -- round-trip guaranteed! With folk rock as a springboard, Joy dives into the everyday and the extraordinary. A touring musician based in Kansas City, Joy is a voice of authenticity, hope and joy. 
Joy's songwriting awards include an American Songwriter Lyric Contest Honorable Mention and ten Walnut Valley Festival NewSong Showcase wins. She has recorded six albums - three in Nashville and three in Kansas City. Joy released To the Girl, her sixth album of original music in April 2019.  joyzimmermanmusic.com