How amazing is it that the 100th anniversary of the women's right to vote falls during an election year? What a great reminder to exercise and protect this right! 
To honor this Centennial, Linda and I cooked up a Facebook Live event called Celebrate Our Vote! Several friends joined us for an evening of stories, quotes and songs about the suffrage movement.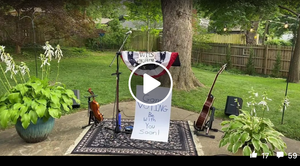 Since we couldn't cover all the interesting historical nuggets that night, here's some additional information: 
Bloomers 
Some Suffragists sought freedom from corsets and crinolines in the mid-1800s. According to Elizabeth Smith Miller at the time, this "freedom dress" was essentially "Turkish trousers to the ankle with a skirt reaching some four inches below the knee, were substituted for the heavy, untidy, exasperating old garment." 
After Elizabeth Cady Stanton's neighbor, Amelia Bloomer, championed this new garment, it became known as the "bloomer." As its popularity spread in the U.S. and England, caricatures of bloomers as deviant spread as well. Women who dared to wear this new garment were subject to unending controversy and ridicule. 
Eventually the early American Suffragists abandoned bloomers for fear they were distracting from their political cause. They returned to wearing dresses to project a more feminine image, knowing this would prove much less threatening. 
It would take until the 1960's and 1970's for pants to become commonplace for women. 
Read more: "When American Suffragists Tried to 'Wear the Pants'", Kimberly Chrisman-Campbell, The Atlantic, June 12, 2019 
Bicycles 
"Let me tell you what I think of bicycling. I think it has done more to emancipate women than anything else in the world. It gives women a feeling of freedom and self-reliance. I stand and rejoice every time I see a woman ride by on a wheel…the picture of free, untrammeled womanhood." ~Susan B. Anthony 
As bicycles rose in popularity in the 1890's, women experienced a new level of freedom. This met with a backlash, of course. According to a writer in the Sunday Herald in 1891: "I think the most vicious thing I ever saw in my life is a woman on a bicycle—and Washington is full of them. I had thought that cigarette smoking was the worst thing a woman could do, but I have changed my mind." 
Despite all the negativity, women began hopping on bikes in record numbers (in modified bloomers!) and riding into the sunset. 
Read more: "How the Bicycle Paved the Way for Women's Rights", Adrienne LaFrance, The Atlantic, June 26, 2014 
Songs 
Plenty of songs during this time period addressed political and cultural changes. "Eliza Jane" warned young women of the dangers of bloomers and bicycles. One of its many verses: 
Eliza had a nice young man, (Alas! 'twas long ago.) 
As gay and fair, as debonair, as any man you know; 
He saw her ride in bloomers, he screamed and quickly fled, 
And as he ran, this nice young man in trembling accents said: 
"Oh, have you seen Eliza Jane a-cycling in the park?" 
The best pro-Suffrage song title on the Library of Congress website is "She's Good Enough to Be Your Baby's Mother and She's Good Enough to Vote with You". You know you gotta hear some of the lyrics… 
No man is greater than his mother 
No man is half so good 
No man is better than the wife he loves 
Her love will guide him 
What 'ere beguile him 
She's good enough to love you and adore you 
She's good enough to bear your troubles for you 
And if your tears were falling today 
Nobody else would kiss them away 
She's good enough to warm your heart with kisses 
When your lonesome and blue 
She's good enough to be your baby's mother 
And she's good enough to vote with you 
Read more: Songs of Women's Suffrage, Library of Congress 
Votes 
Inspired by the brave women (and men who were their allies) who have sacrificed and broken new ground, Linda put together this video to encourage each of us to VOTE!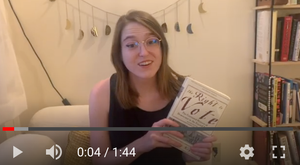 P.S. It was fun to use "Jump On In" as the soundtrack for the video  
P.P.S. Jump On in and VOTE! 
Joy Zimmerman's soulful vocals and original music dance effortlessly from poignant to hilarious to joyful -- round-trip guaranteed! With folk rock as a springboard, Joy dives into the everyday and the extraordinary. A touring musician based in Kansas City, Joy is a voice of authenticity, hope and joy. 
Joy's songwriting awards include an American Songwriter Lyric Contest Honorable Mention and nine Walnut Valley Festival NewSong Showcase wins. She has recorded seven albums - three in Nashville and four in Kansas City. Joy's most recent release, Shed a Little Light: Joy Zimmerman Live is available now. joyzimmermanmusic.com