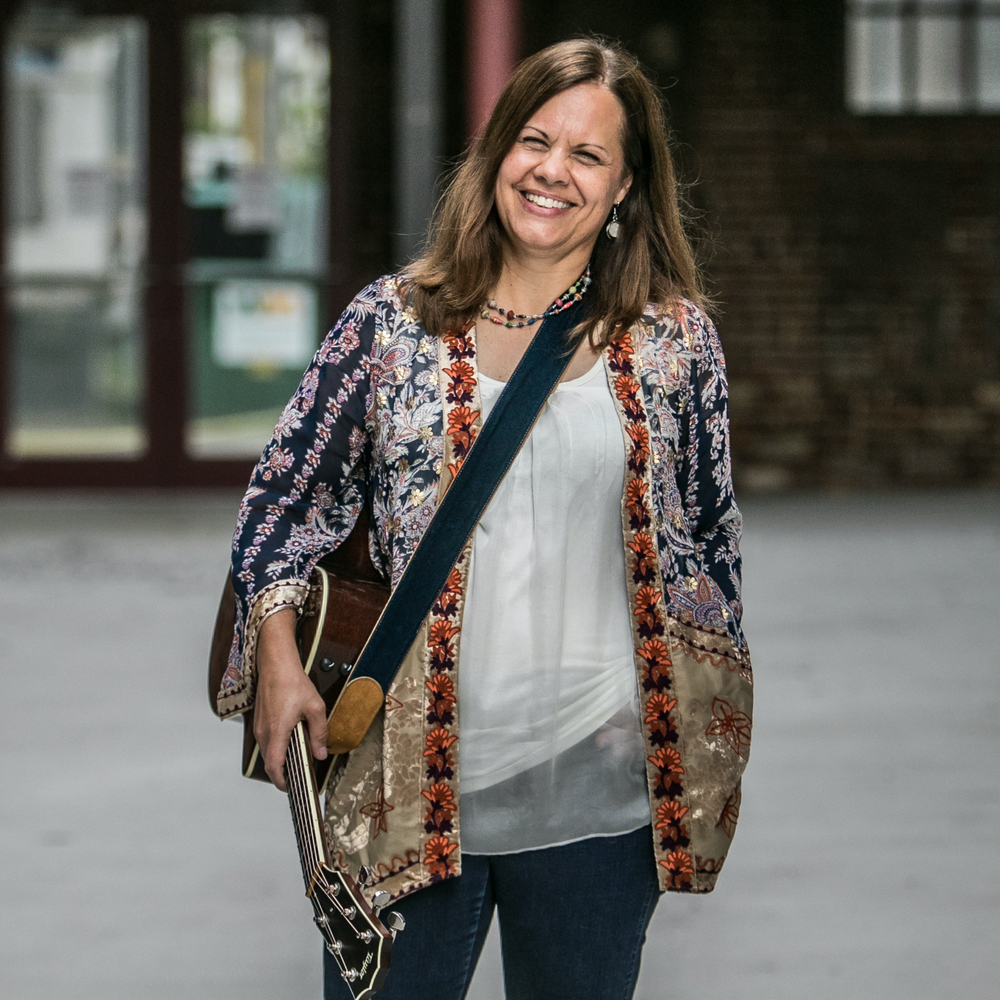 Joy Zimmerman is a touring folk & acoustic roots singer/songwriter who cultivates joy and community with a stunningly clear and rich voice.
Born on Shakespeare's 400th birthday, it's no wonder Joy is a natural writer. Her songwriting has been recognized nationally with an American Songwriter Lyric Contest Honorable Mention and ten Walnut Valley Music Festival NewSong Showcase wins. Her music has been described as "vivid and alive, tender and poignant, and altogether a gift for the listener." (Caryn Mirriam-Goldberg, Kansas Poet Laureate Emeritus)
At home on guitar and violin, Joy loves adding fiddle tunes along the way. She performs solo and with a variety of other musicians. You hear echoes of your own journey in her performances of hope, resilience, and humor.
Joy's forthcoming album, "Where the Light Lives," wrestles with challenging issues facing us collectively and individually. Steeped in justice issues since childhood, Joy has always found solace and her authentic voice in music.
Joy Zimmerman has recorded eight albums of original music. Her most recent album, "The Canvas Before Us," debuted at #8 on the Folk Alliance International Folk Chart in August, 2021, and her single, "Women Who Walked on Water," was #4 in March 2022.
As a former social worker, Joy believes in the power of music and collaboration. She is an Artist INC alumnus, the recipient of an Artist as Activist grant from the Mid-America Arts Alliance, and a board member of the Transformative Language Arts Network. Joy curated a portrait exhibit at the InterUrban ArtHouse based on her song, "Women Who Walked on Water."
A nationally and internationally touring musician based in Kansas City, Joy brings us home to our innate ability for wonder and connection. Her voice of honey and ginger leaves you wishing you'd heard her sooner.
Prior venues include Lakeside Music Concert Series (KS), Louisville Arts Center (CO), Green Guitar Folk House (KS), Labyrinth Concert Series (MO), Knuckleheads (MO), Headwaters Music and Arts (MN), Stone Room Concerts (DC), InterUrban ArtHouse (KS), The Warming House (MN), InterContinental Hotel (MO), Open Range Concerts (MN), Stories & Songs Series (OR), Taos Inn (NM), Granary Concert Series (MN), Folk Alliance Region Midwest DJ Showcase
Joy's music has been featured on Northern Spirit Radio's Song of the Soul, (Re)Learning Leadership podcast, Hootenanny Cafe Radio Show, KKFI Local Showcase, Kansas NASW Advocacy Day, Together Women Rise International Women's Day Celebration
 The Canvas Before Us - #8 Album of the Month on the FAI Folk Chart (August 2021) 
Women Who Walked on Water - #4 Song of the Month on the FAI Folk DJ chart (March 2022)
We'll Hold the Light - #16 Song of the Month on the FAI Folk DJ chart (February 2021) 
Heartland Song Network Artist of the Month (2022)
Artist as Activist Award - Mid-America Arts Alliance (2022)
Artist INC Program Graduate  (2022)
FARM Folk DJ Showcase (2021) 
Kansas Public Radio Top Ten New Releases - 3x (2021)
Walnut Valley Festival NewSong Songwriting Contest 10x winner  (2011-2020)
American Songwriter Songwriting Contest - Honorable Mention (2017)
Venue References 
 "Book Joy Zimmerman for one of the best evenings you can offer your audience. Joy is a multi-instrumentalist (fiddle and guitar), with a beautiful voice.  Add all that to her insightful writing and you have a show any host would line up to present to their audience. " ~Dani Goodband, Lakeside Music
"Whether she's strumming her guitar or fiddling her fiddle, Joy Zimmerman brings a voice of angels to her music. I've booked her before and I'll book her again."  ~Mike Paget, Green Guitar Folk House
"​Joy has a wonderfully unique way of connecting to her audience...she engages every audience member and wraps everyone in a blanket of beautiful music."  ~Peggy Kelly, Open Range Concert Series
Reviews of Joy's new album, "The Canvas Before Us"
 "Joy Zimmerman has taken her music to a new level on "The Canvas Before Us," which not only showcases her lovely voice but also an array of new songs speaking eloquently and emotionally to the human condition. Am greatly looking forward to playing these songs on Kansas Public Radio's Trail Mix."   ~Bob McWilliams, host Trail Mix on Kansas Public Radio
 "The Canvas Before Us" is a warm and beautiful album about hope, reflection and the loving humor that only Joy Zimmerman can infuse. I love this album! Inspiring women, love, our future, the state of the world—so many unique stories accompanied by music that is both original and comforting. Joy Zimmerman gives us both in this lovely and thoughtful new release. Lucky us."   ~Dani Goodband, Lakeside Music