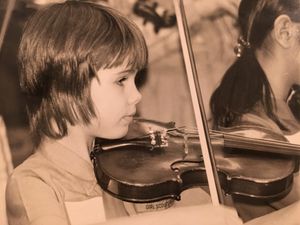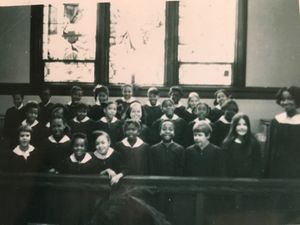 I love hearing the inspirations that led songwriters to their songs. And I love knowing what makes artists tick. 
These fascinations led me to this leap of faith into the blogging world. My intent is to explain Note by Note how my original songs came to life. One song per post. 
By way of introduction, these two photos depict my musical beginnings….violin lessons before kindergarten and singing in the children's choir at my church in St. Louis. (I'm sporting the pixie haircut in the first row, far left) 
Violin was my main squeeze. I pursued it vigorously through college with many lessons and many orchestras. Eventually realizing I was not cut out for classical music alone, I didn't have a larger musical vision. Besides, I was out to save the world as a social worker, so I set down my violin bow on a music career. 
Singing had always been second nature, but my 4th grade self decided that I didn't have a solo voice. I clearly remember the day I made that secret determination without any fact checking. Sad but true, since a person can't really know how their own voice sounds to others. I resolved to be a good choir member and blend well. 
That is, until I picked up a guitar and started performing a decade ago. What followed was discovering songwriting, my solo voice, and this uncharted road. 
Some say the violin is the closest musical equivalent to the human voice. (I find it curious that my own vocal range begins with the lowest note on the violin and goes up to the highest note in first position.) Maybe playing violin helped me learn to sing out—in addition to a great voice teacher and stepping up to the mic repeatedly before I was fully ready. 
My story is one of reinvention and renewal. I bet yours is too.   
Join me on this musical adventure and let know what you think.  
*How have you reinvented yourself? When did you last sing? How are you using your voice? 
All the best—with gratitude, 
Joy 
Note of Inspiration: The Artist's Way: A Spiritual Path to Higher Creativity by Julia Cameron is a powerful guide to "discovering and recovering your creative self". Designed as a twelve-week program, this book is full of exercises, activities and wisdom.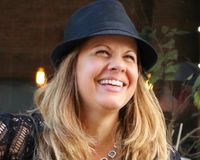 Joy Zimmerman is a soulful singer-songwriter known for compelling vocals, inventive songs, and captivating performances. A traveling musician based in Kansas City, Joy is currently working on "To the Girl", her sixth album of original music.  Joy is a multi-instrumentalist whose eclectic music might be best described as folk rock with extra helpings of other favorite genres. 
Joy's songwriting awards include an American Songwriter Lyric Contest Honorable Mention and eight Walnut Valley Festival NewSong Showcase wins. She has recorded three albums in Nashville and two in Kansas City.
More information available at joyzimmermanmusic.com