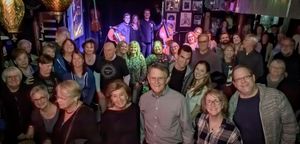 My dream was crystal clear. A woman was falling from a tall skyscraper in slow motion right in front of me. I watched helplessly from across the street. Unable to I avert my eyes, I was horrified and also confused—why did she have a peaceful look on her face? 
When I awoke, it hit me—that woman descending was me. I had fallen from grace but survived. 
The current state of the world and my dream have some commonalities. We are in a free fall. Where is our solid ground during these unprecedented days? How and when will the invisible strike? What will remain constant? 
We are already digging deep and making sacrifices. With so much uncertainty, how can we hold onto as much peace as possible and fill our days? 
Some suggestions I've been gathering: 
Keep track of those you know who are vulnerable. 
Learn something new via online lessons or YouTube. 
Start an email stream with friends to share inspiration and resources. 
Walk outside. 
Send a note of encouragement to parents of school-aged children. 
Contribute to nonprofit organizations. 
Collect good news. 
Write a poem or a song or create a piece of art. 
Call at least two friends you've been missing. 
Enjoy a movie night with your family. 
Read a book that's been waiting on your shelf. 
Video chat with a friend. 
Sort through a box in your basement. 
Listen to some new music. 
Clean out your inbox (decidedly less fun…). 
Exercise. Stretch. 
Find solace in nature. 
Try a new recipe. 
Look through old photos or letters. 
Purchase a gift certificate to support a local business now to be used later. 
Watch funny pet videos or create one. 
Plan a future event. 
We're gonna have to keep being creative and compassionate. This poem says it all. 
Pandemic 
What if you thought of it 
as the Jews consider the Sabbath— 
the most sacred of times? 
Cease from travel. 
Cease from buying and selling. 
Give up, just for now, 
on trying to make the world 
different than it is. 
Sing. Pray. Touch only those 
to whom you commit your life. 
Center down. 
And when your body has become still, 
reach out with your heart. 
Know that we are connected 
in ways that are terrifying and beautiful. 
(You could hardly deny it now.) 
Know that our lives 
are in one another's hands. 
(Surely, that has come clear.) 
Do not reach out your hands. 
Reach out your heart. 
Reach out your words. 
Reach out all the tendrils 
of compassion that move, invisibly, 
where we cannot touch. 
Promise this world your love– 
for better or for worse, 
in sickness and in health, 
so long as we all shall live. 
— Lynn Ungar 3/11/20 
My vivid dream led to writing "The Fall". Click on the photo below for a video of my live recording with Ryan Dugan and Jake Wheeler on March 6th at Knuckleheads in Kansas City. 
Live performances have now ceased. Please remember musicians, artists, small business owners, servers, teachers, health care workers…well, all of us, really. 
Together we will find strength. Our invisible ties are stronger than this invisible virus. 
Be safe and well, my friends~ 
Joy
Top photo credit - Mike Schwabauer Photography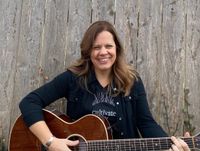 Joy Zimmerman's soulful vocals and original music dance effortlessly from poignant to hilarious to compelling to joyful -- round-trip guaranteed! With folk rock as a springboard, Joy dives into the everyday and the extraordinary. A touring musician based in Kansas City, Joy is a voice of authenticity, hope and joy. 
Joy's songwriting awards include an American Songwriter Lyric Contest Honorable Mention and ten Walnut Valley Festival NewSong Showcase wins. She has recorded six albums - three in Nashville and three in Kansas City. Joy released To the Girl, her sixth album of original music in April 2019.  joyzimmermanmusic.com