How do you envision the road map of your life? 
Have you followed a straight line or taken many twists and turns? Enjoyed some rest areas? 
En route home from Oregon (a.k.a. the land of milk and honey), I couldn't help but relive our numerous hikes totaling close to 60 miles. Some trails were clearly marked while others left you guessing. One trail was a mile straight up and others were wide, level and cushioned by pine needles. 
As the Queen of Side Trips and Alternate Routes, I've had many jobs, relationships, travels, friends and challenges. All those side trips finally make sense with songwriting. All roads have led here. 
You don't get to my age without learning and living lots of lessons. I threw many of these observations—along with the kitchen sink—into this song.  
Love and friendships in their many forms are hard work. Especially deep, sustaining relationships. With the inward and outward journey to find yourself and your people, there's "No Shortcut to Love". 
See you on the trail, 
Joy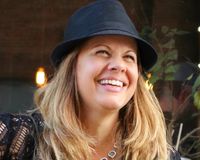 Joy Zimmerman's soulful vocals and original music dance effortlessly from poignant to hilarious to compelling to joyful -- round-trip guaranteed! With folk rock as a springboard, Joy dives into the everyday and the extraordinary. A traveling musician based in Kansas City, Joy is a voice of authenticity, hope and joy. 
Joy's songwriting awards include an American Songwriter Lyric Contest Honorable Mention and eight Walnut Valley Festival NewSong Showcase wins. She has recorded six albums - three in Nashville and three in Kansas City. Joy released To the Girl, her sixth album of original music in April 2019.  joyzimmermanmusic.com